Insight Data, The Unspoken Advantage For Your Referral Marketing Company
Posted by Gabrielle Chloe Ansaldo / October 7, 2022
If there's anything absolute in the world, it's numbers. Numbers don't lie. You can talk big and format your sentences the best way possible but the reality is, your business won't get far without talking about numbers.

That said, every successful business makes sure to research its target demographic and uses that data in creating experiences and products. Referral Marketing is no different. 

Insight data on any details about your customer or team's demographic information, behavior, and strategy is so powerful. Having this data and analyzing it can and will probably define your own success.

Insight data can be the foundation of your next move. As the market evolves, you can get the power to evolve with it. By keeping up with trends, behavior, and seasons, your referral marketing channel will set itself up for success.

Unfortunately, this doesn't necessarily mean that you can acquire this data in a single platform. Enter, UNIFY. Unify is an all-in-one solution to your referral marketing needs. Here at NaXum, we value that insight data and we do things with them. We give you the power to create more opportunities for your referral marketing channel and open yourself up for immense growth.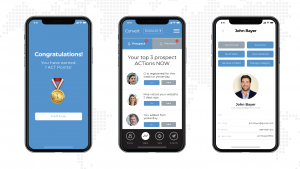 Our predictive mobile platform feels like a top leader sitting next to the newest person on the team, suggesting what to do next. Because of the intuitive experience, your members actually use the platform on a daily basis and you get access to powerful insight data.
In the end, you want a platform where you can know the types of content are your members willing to share and out of that content, which content drives the most sales!
You can learn:
– Who in your company is on the longest streak of winning their daily actions
– Which text messages are most effective in gathering retail customers
– Which training videos are your team members finishing
– What social media content is bringing customers to your website
– And more! Endless data points as you expand the predictive tool suite!
The NaXum UNIFY Platform is the complete solution for any company in the referral marketing field as it combines different tools that make the user experience 100x better. It includes:
Commission Tracking Systems that are completely modifiable for each business
Contact Management with Smart Search
Capture Pages
Predictive tools that create drafts for social media posts, texts, and emails that are customizable
Replicated Webinars
Replicated Sites
Live Chat so you know when your prospects open links and you can easily guide them through the material
Support Suite
Fully Customizable Shopping Carts
Autoship Billing
Multi-Merchant Account Billing
Multi-language Systems
Co-op Management Systems
Mobile/ ANY Device Platform so you can have access and see how the business is doing in real-time
Commission Payment Center
WordPress Blogging System
Team Training Center so your affiliates are guided through the process entirely.
You can read more about how to find your ideal referral marketing program here. Confused and having trouble with your referral marketing channel? Click here.