Commission Tracking in 2023, More Than Just Money
Posted by Gabrielle Chloe Ansaldo / September 22, 2022
Finding a good commissions tracker today just isn't the same anymore. Each company has diverse needs and a well-thought-out commission plan. Sometimes, solutions even come at an unnecessary cost. Today, Commissions Tracking simply doesn't entail just money anymore. It also covers customer rewards, daily commissions, and of course, daily habits.
A good commission system will allow you to accurately track all of it. Let's talk about it.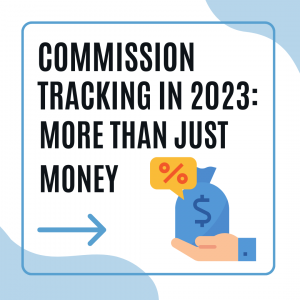 Customer Rewards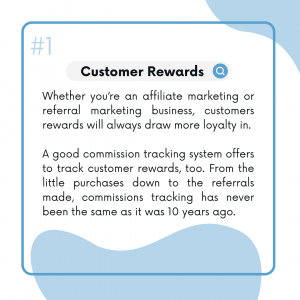 Whether you're an affiliate marketing or referral marketing business, customer rewards will always draw more loyalty in. With everyone having access to the internet and all that comes with it, customers find it important that the company or business they support offers that very same support back. Here's the thing, though. Not all businesses offer a good tracking system for those rewards. How do your customers know that their rewards are safe for each action that they do?
A good commission tracking system offers to track customer rewards, too. From the little purchases down to the referrals made, commission tracking has never been the same as it was 10 years ago.

Commissions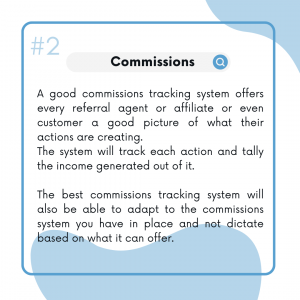 Of course, commissions will need to be tracked, too. A good commission tracking system offers every referral agent or affiliate or even customer a good picture of what their actions are creating. The system will track each action and tally the income generated out of it. The best commissions tracking system will also be able to adapt to the commission system you have in place and not dictate based on what it can offer. The commissions tracking system should be able to give you the flexibility to create a system that motivates and compensates your customers and affiliates for taking actions you need them to take.
At the same time, the best commission tracking system should offer a variety of ways to get paid. It's not just important to offer the best tracking, people will look for how accessible and flexible the payment system is. Sure, they're getting income from the actions. Now, how do they get a hold of that income? An ideal commissions system will also tally and sum up commissions for a pay period and gives you totals for each eligible distributor or affiliate.
Daily Habits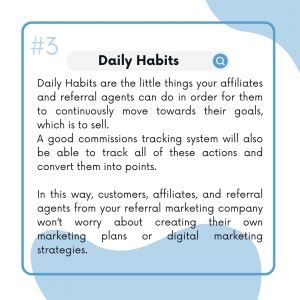 How do you truly motivate your affiliates and referral agents to create momentum on their sales? How do you guide them into doing the best actions that would generate the most success? How do you truly model a successful affiliate or referral agent and hone and convince others to follow suit? Enter, daily habits.

Daily Habits are the little things your affiliates and referral agents can do in order for them to continuously move towards their goal, which is to sell. A good commission tracking system will also be able to track all of these actions and convert them into points.
In this way, customers, affiliates, and referral agents from your referral marketing company won't worry about creating their own marketing plans or digital marketing strategies. They'll simply check what's on their plate for that certain day. They'll know when to reach out, how to reach out, and what to do when they get pushback. Knowing that all their actions are being accounted for is a great motivating factor to keep doing good. An awesome commissions tracking system will be the solution for all that.

NaXum's UNIFY Platform offers the best solution to your commission tracking woes. It offers a fully flexible commissions tracking system that will let you and your affiliates see the income generated per action and will make payment very easy. At the same time, the UNIFY Platform also offers an all-in-one solution to all your businesses' problems.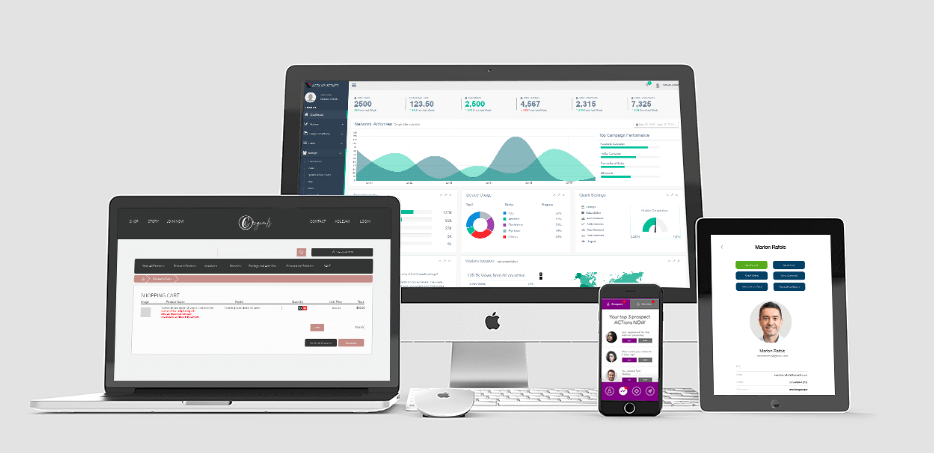 It includes:
Commission Tracking Systems that are completely modifiable for each business
Contact Management with Smart Search
Capture Pages
Predictive tools that create drafts for social media posts, texts, and emails that are customizable
Replicated Webinars
Replicated Sites
Live Chat so you know when your prospects open links and you can easily guide them through the material
Support Suite
Fully Customizable Shopping Carts
Autoship Billing
Multi-Merchant Account Billing
Multi-language Systems
Co-op Management Systems
Mobile/ ANY Device Platform so you can have access and see how the business is doing in real-time
Commission Payment Center
WordPress Blogging System
Team Training Center so your affiliates are guided through the process entirely.

You can read more about how to find your ideal referral marketing program here. Confused and having trouble with your referral marketing channel? Click here.