NaXum's Predictive App: Steer Your Success In 2024
Posted by Diana Faye Cichon / November 13, 2023
Stepping into the world of referral marketing in 2024 is a significant move. NaXum's Predictive Mobile Applications don't just serve as tools to sales teams—they become your virtual mentor, guiding you through the intricacies of the referral marketing landscape.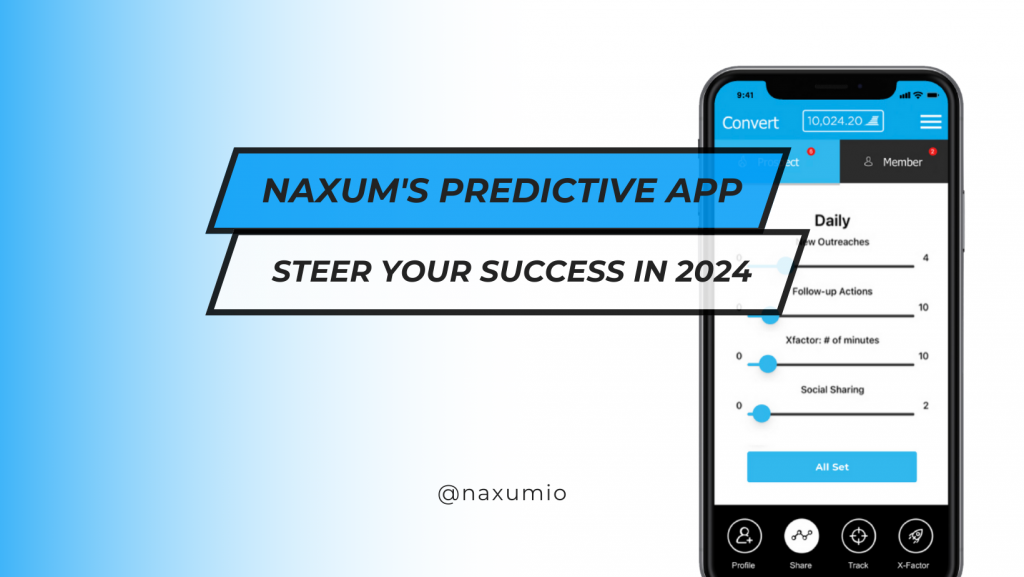 Unlocking the Power of NaXum's Predictive Mobile Applications
Seamless Navigation in the Digital Age
NaXum's Predictive App offers a smooth experience crafted for the on-the-go referral marketer. As third-generation technology, these applications provide mobility and unmatched agility.
Guidance at Your Fingertips
At the core of NaXum's Predictive App lies the Predictive Actions Technology. It's not just a feature; it's your virtual success mentor, offering real-time, actionable insights and guidance on your following best actions. Think of it as having a trusted advisor helping you make informed decisions in the dynamic world of referral marketing—just like a reliable mentor.
Comprehensive Features for Enhanced Business Insights
Data-Driven Insights
Understanding what propels success is pivotal for strategic decision-making. NaXum's Predictive Mobile Applications go beyond the surface, providing detailed data on individual actions that lead to transactional sales data. It's akin to having a magnifying glass on the elements of your pipeline that genuinely impact your business growth.
Daily Habits Dashboard
Small victories are the stepping stones to significant achievements. NaXum recognizes this and provides an integrated dashboard to track and celebrate your daily successes. It is a constant reminder of progress, motivating you and your team to strive for success—like a daily encouragement from your mentor.
Why Opt for NaXum's Predictive Mobile Applications?
Enhanced User Experiences
NaXum's commitment to offering a comprehensive view of your business sets its Predictive Mobile Applications apart. Beyond sales tracking, you can effortlessly access Contact Management, Sales Tracking, and Training Material. It's an all-inclusive approach to understanding and improving your business performance, providing an enriched user experience.
Strategic Guidance
In the fast-paced world of referral marketing, every action holds significance. NaXum's Predictive Actions Technology ensures that each step contributes to your success. It's akin to having a strategic advisor offering real-time advice, shaping your decisions for optimum results—just like personalized guidance from a mentor.
User-Friendly Interface
Technology should empower, not complicate. NaXum understands this, and its Predictive Mobile Applications boast a user-friendly interface. Whether you're a seasoned pro or just starting, the intuitive design guarantees ease of use, making your journey smoother—just like having a mentor who simplifies the complex.
Conclusion
As you navigate the path to success in 2024, let NaXum's Predictive App be your trusted guide. Optimizing experiences, providing strategic guidance, and ensuring ease of use, these applications are more than tools—they're your virtual mentor for achieving unparalleled success. Embrace the future with confidence, driven by the power of NaXum's Predictive App—just like a mentor who instills confidence in your journey.
Book a demo to experience the transformative power of NaXum's Predictive App. Let us guide you toward a future of success in referral marketing.