NaXum Reviews #256: Announcing the 7 Figure Earners Panel
Posted by naxumadmin / September 30, 2022
We are excited to announce our very first panel of 7 figure earners for the DSEF!
We'll be unpacking "What 7 Figure Earners Look For In A Company"To register to listen in on the panel:
We'll be asking these questions:
As a top earner in referral marketing, owners of companies around the world want to know what you're looking for when evaluating their opportunities. On the following topics, they'd love to know your thoughts.
1) What do you see the primary role of the corporate team to be?
2) What are your expectations when it comes to content the company would provide in sharing the opportunity?
3) In today's world, what are your expectations of the types of technology the company would provide?
4) We know events are key to our relationships today, what role do you believe the corporate team plays in events?
5) When it comes to the 'culture' of what a company feels like, what feeling are you seeking when exploring a brand?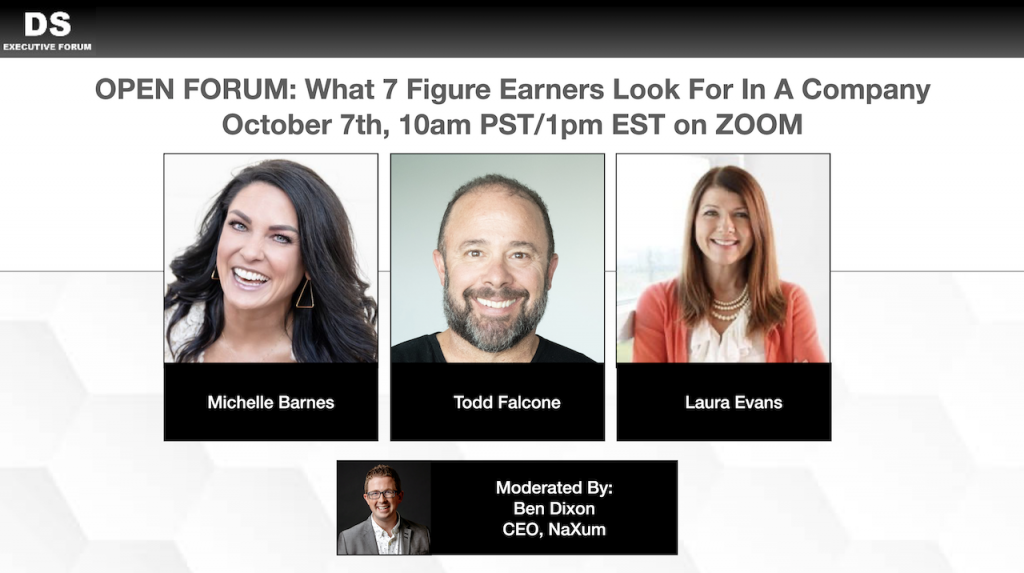 Who will be on our panel?
Michelle Barnes: the single mom who defied all odds and built a multiple seven-figure income in our space. After creating an incredible team at Veema over the years, Michelle was a critical player in the growth at Modere and the impact they've had today. Today her group generates as much as $10M a month in revenue.
Todd Falcone: the long-time industry trainer that just recently moved back into the field to build teams again after covid is a treasure trove of candid wisdom.
Laura Evans: After 20+ years of experience as an executive and President of well known billion-dollar company in the industry, has transitioned from her corporate career to leading the fastest growing team in the field of the mental wellness company, Amare.
To learn more Register Here
To join the DSEF for free: Visit the DSEF on Linkedin