NaXum Core Value: Kaizen and Never-Ending Improvement
Posted by Gabrielle Chloe Ansaldo / November 11, 2022
NaXum believes in Kaizen, which translates to having an attitude and actions that are always willing to learn and is hungry for more. Many of us call this a thirst for knowledge.
If there's anything truly constant in life, it's change. Everyone and everything changes eventually. The question is, are you willing to change positively or negatively?

It is so important to constantly work on yourself because otherwise, you'll never achieve true success. One of the things we also value here at NaXum is delivering "WOW" to our clients. In order to do that, we make sure to find ways to continuously grow in our craft. This is how we ensure that our developers, engineers, and client champions know what they're doing and excel at it. The beauty of Kaizen comes with the humility to admit that we aren't the best and that's okay— as long as we find ways to better ourselves daily.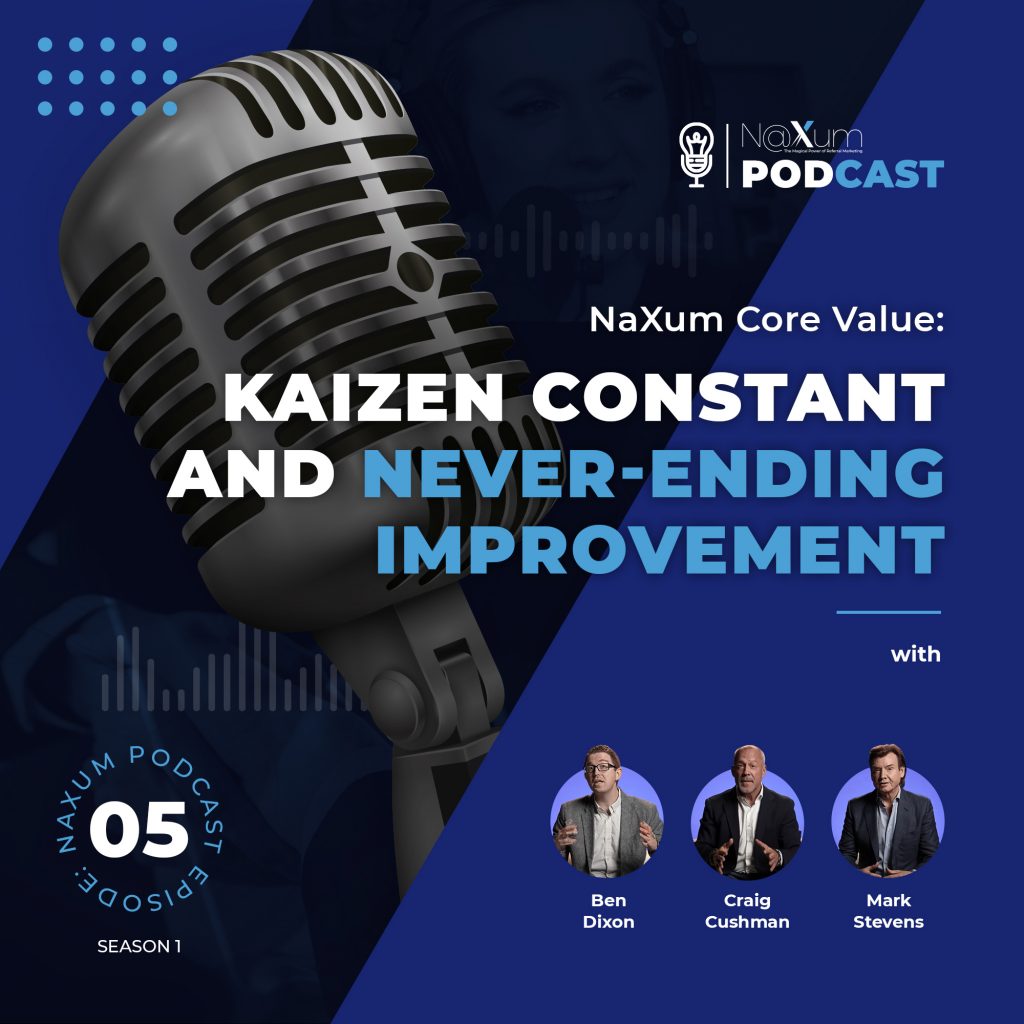 In this podcast episode, CEO Ben Dixon and sales executive Mark Stevens discuss how they Kaizen daily and why it's so important. Mark Stevens discusses NaXum's monthly audiobooks. It challenges us, reminds what we need to do in life, and keeps us on point. He further mentions that all of us are created for greatness and to do great things and make a great impact in the world. We're not able to do that if we don't first fill us up with the things that give us knowledge, inspiration, and power.

"There is no plateau in life; you can either move forward or go backward." -Mark Stevens

As the world is ever-changing, a marketing software company like NaXum also needs to constantly change in order to be in front of the tech industry, too. CEO Ben Dixon talks about how NaXum makes sure that the team is equipped with the skills and knowledge in order to fulfill its 0-24 Hour Brand Promise, which states that any bugs or errors on the platform will be fixed within 24 hours without costing any extra fees.

Overall, the Core Value of Kaizen teaches us that in order to succeed in life, you need to constantly make decisions daily that support your goal. Because drastic change won't create effects that would last. It's the little daily habits that stack up into steps that help you improve.

Watch here: