iMarkets Live Announces Upgrade Onto Naxum Unify Platform With S.P.E.E.D. System
Posted by naxumadmin / September 14, 2016
International Markets Live LTD out of New York announces their newly upgraded virtual office and marketing system powered by Naxum Online Marketing Services, LLC out of Houston, Texas.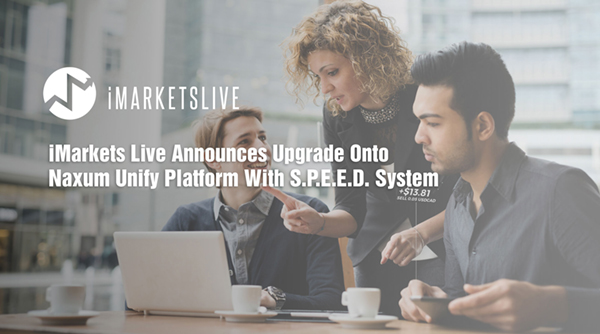 Who is International Markets Live?
International Markets Live LTD(known as iMarketsLive) provides highly effective tools and services to help traders make the right decisions in the FOREX & Futures markets. Our services are exclusive and can only be accessed through our membership. Led by a brilliant and experienced executive team, the company is growing exponentially and is currently helping thousands of traders become successful.
Why is this upgrade important?
iMarketsLive is promoted through a network of independent business owners (IBO's) who earn mlm commissions for referring customers to the platform. With the fantastic results and testimonies customers have shared on the product, the company's growth required a scalable long-term solution to run the back-end commissions and front-end marketing components.
What is included in the upgrade?
The upgrade begins with a beautiful intuitively skinned virtual office that allows even the newest IBO to have full transparency in their reports to see exactly how their organization is growing, while giving them the marketing tools they require to be successful. Within the marketing suite, IBO's are given compliant social media content they can share from the http://imarketsliveblog.co/ blog and from there they have replicated webinars to share a taste of the education and tools available for customers of iMarketsLive. The marketing tools from the Naxum platform simplify the process of sharing iMarketsLive with others, allowing the IBO's to successfully these powerful services with others.
How do previous members activate?
All previous members have been given accounts in the new virtual office and instructions have been sent via email with your access. If you have any challenges re-activating your account as a customer or as a IBO please request a new password at: https://office.myimarketslive.co/
Who Is Naxum?
Naxum is the premier platform for referral marketing companies in the space. For over 16 years they have provided "Technology To Unleash The Magical Power Of Referral Marketing" to companies on 6 continents.
To learn more visit www.naxum.com